At Tommalieh Law, we're dedicated to serving clients throughout Joliet, Illinois who need legal counsel in several areas of family law, including divorce, child custody, child support, and order modifications. As both skilled mediators and litigators, our Joliet family lawyers will work with you to meet your needs for legal representation, no matter how complicated your situation is.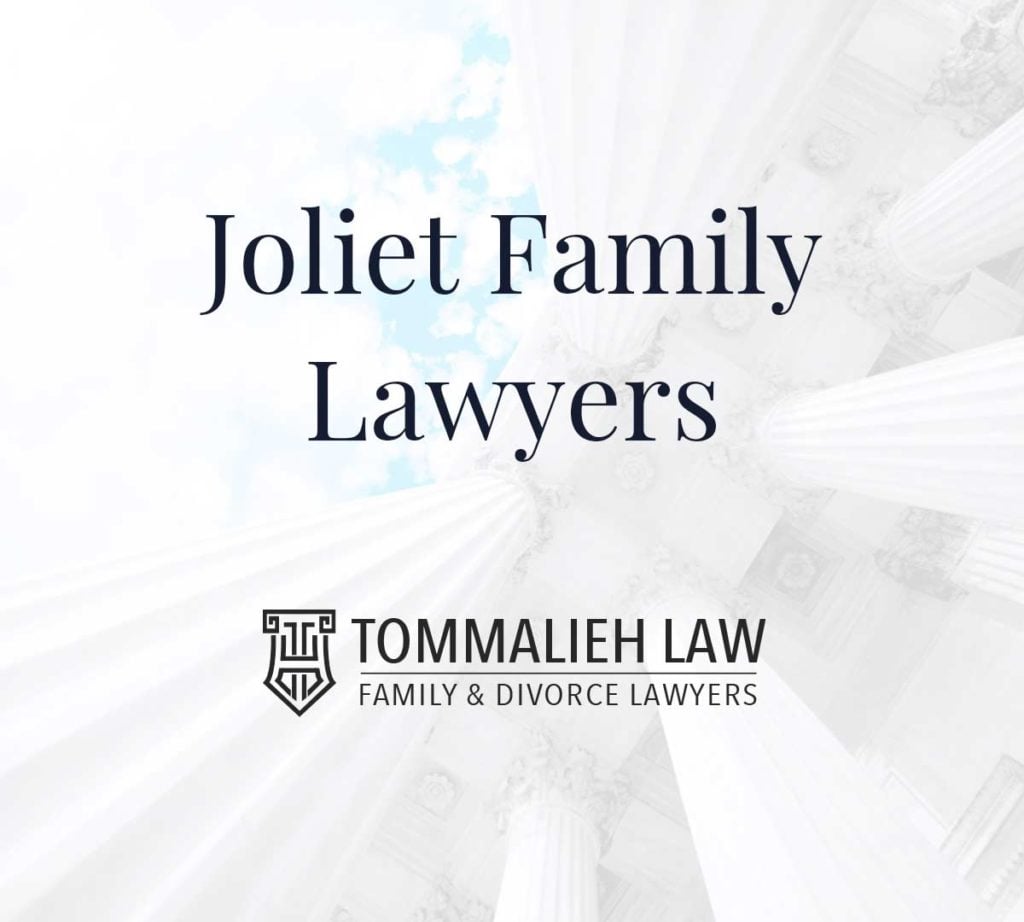 Whether you're filing for an amicable divorce or are embroiled in a messy child custody battle, Tommalieh Law is the right choice for your case in Illinois. Our team of Illinois family attorneys combines a personable and professional approach with extensive experience in family law to deliver quality service to every client.
We will dedicate focused, personal attention to your case. And we're committing to resolving even the most delicate legal issue. Contact us today at (708) 232-0017, for a free consultation.
Why Should I Hire a Joliet Family Lawyer?
Child custody, child support, divorce, and spousal maintenance are challenging cases for anyone facing them. The anxiety and stress that come with these cases are enough to make many feel exhausted and defeated before they even begin the legal process. 
Families have issues, some of which are severe enough to need the help of a legal professional. Custody and divorce disputes are difficult because there are risks that are associated with proceeding with these family law cases without an attorney. Most people don't want to hire a family attorney because they think hiring an attorney is costly and others assume they can handle such cases on their own. But hiring an experienced lawyer is worth all the cost.
Here are some reasons why hiring a family attorney in a family law case is in your best interest:
Legal Advocacy and Protection
A family attorney is familiar with family laws and outcomes of similar past cases. So, they can use their knowledge and experience to pursue the best probable outcome in your case. A family attorney can represent your case in court so that the judge sees your side.
If the other party has already hired a lawyer, it's in your best interests to hire one because an attorney will guide you on realistic and unrealistic threats, and how to protect your rights.
Ensuring Paperwork is Filed Properly
During a family law case, such as a divorce, you will need to sign many documents. If you have no legal experience, you may become overwhelmed while trying to make sure you submit every document properly. A family law judge can exclude any or all documents that aren't drafted correctly.
By hiring our Joliet family law attorneys, your paperwork will be done correctly, including drafting, filing, and submitting documents while meeting the time limitations.
To Settle Child Custody Disputes
Child custody matters are often the most complex and stressful part of a divorce case. A family law attorney will work in your best interests to help you get the custody arrangement you want. Typically, family courts allow shared custody while legal custody may be mutual.
Thus, it's important for individuals to have realistic expectations when dealing with custody issues since it can be hard to get sole custody of your children unless you can prove that the other party is unfit to have custody; for example, if they suffer from mental illness, addiction, or they're abusive.
Your efforts to show you are the better parent for your children's development and safety can backfire, but a family lawyer can guide you regarding these potential consequences. 
To Make Your Ex Pay Spousal or Child Support
It's common for former spouses to violate divorce agreements by skipping, stopping, or refusing to pay child support. Child or spousal support is the maintenance money the obliged parent pays their ex-spouse as per the court's instructions.
A family attorney will help you resolve the issue if your ex-spouse isn't paying child support money. If you are the paying parent and you're unable to pay child or spousal support because of financial reasons, a family attorney can help you apply for child support order modifications.
Should I Hire a Divorce Lawyer?
If you're at the beginning of your divorce process, you may think it's a good idea to represent yourself instead of hiring a divorce attorney, thinking you'll save time and money by doing so.
If your marriage was short, if both you and your spouse are committed to ending your marriage without a legal or financial battle, if you have no children or assets, and if neither you nor your spouse needs to receive alimony from the other party, then you may process your divorce without an attorney.
However, most couples find divorce to be a complex and confusing process, and they're happy to hire an experienced divorce attorney to guide them through the process. You must make many decisions that will affect your future--when emotions are running high, you may not think clearly.
Thus, although not everyone needs a divorce attorney, hiring a good divorce attorney is often in your best interests, especially if your divorce is complex, contested, involves children, you have significant assets, or if your spouse has already hired a divorce attorney. 
Here are five reasons to consider hiring a divorce attorney instead of representing yourself in court:
You aren't familiar with matrimonial law or family court procedures.
You need rational advice during this emotional time.
A divorce attorney can suggest options you didn't even know existed.
To draft and file your paperwork properly.
A divorce attorney can help you focus on the bigger picture.
Who Gets Custody of a Child in a Divorce in Illinois?
During divorce proceedings, establishing who gets residential custody of shared children is the most disputed and emotionally difficult part of the entire process. Typically, Illinois defines child custody in two aspects: legal custody and residential, also commonly referred to as physical, custody.
Legal custody entails the ability to make major decisions in the child's life, such as what religion the child may practice, where the child attends school, and approving medical treatment. Physical custody determines where the child lives or spends the most time, which determines the parent who has to pay child support.
Illinois divorce law states that married parents have joint custody of a child born to the marriage while the couple was married. For unmarried parents, the mother has sole physical and legal custody of the child until paternity is proven and the father petitions the court for some form of custody.
If the mother and father can't agree on legal or physical custody, the court makes the final decision. In legal custody, the court determines if the parents can communicate with one another. If they can't communicate concerning their child, the court is likely to award sole legal custody to the parent who has physical custody of the child.
For physical custody decisiosn, courts evaluate many factors, including:
The child's relationship with either parent.
The ability of either parent to take care of the child.
The wishes of each parent.
The mental and physical state of each parent.
The child's wishes, depending on their age and emotional development.
The occurrence of ongoing and repeated abuse
The parent who was the child's primary caregiver during the marriage will have an upper hand regarding custody law during the divorce proceedings. 
When Can Child Support be Modified in Illinois?
In Illinois, if a temporary child support order was ordered while child support proceedings were pending, the temporary child support order can be modified any time before a final order is made. Child support established by a final order can be modified at any time from the entry of the order until the termination of the paying parent's obligation to pay child support under the order. 
However, even though a child support order can be modified at any time, you must demonstrate a substantial change in circumstances for the child support obligation order to be modified. Illinois courts define what qualifies as a "substantial change in circumstances" based on the precedent established by case law.
How Are Assets Divided in a Divorce in Joliet County, Illinois?
Illinois follows two approaches during property division: community property or equitable property distribution approach. Illinois requires property division that's equitable, or fair, but this doesn't necessarily mean equal.
Instead of using an automatic 50/50 split, Illinois courts consider all relevant factors when determining fair property division, including:
The length of the marriage.
Each spouse's age and health.
Whether a spouse is receiving alimony.
Each spouse's occupation, employability, and vocational skills.
Each spouse's debts and expenses.
Contribution to the acquisition, upkeep, or increased value of the marital property, including contributions as a homemaker.
Contribution to the depreciation of marital or separate property.
Economic circumstances of either spouse.
Custodial arrangements for shared children.
Contact Our Joliet Family Lawyers Today!
Here at Tommalieh Law, we provide solutions to a wide range of family law issues that need skilled legal counsel. Our Joliet family attorneys will answer all your questions, explain your options, prepare the strategy for your case, and take appropriate actions for a positive outcome.
We believe in empowering our clients with the knowledge they need to make the best decisions for the well-being of themselves and their families. Contact our law firm today at (708) 232-0017, or chat with us online to speak with top Will County attorneys experienced in Illinois law.