Updated on
October 15, 2020
Updated: January 17, 2023
With marriage comes great responsibility, as the two people who decide to get married vow to spend the rest of their lives together. However, if one or both partners belong to the military, managing their household duties can be difficult. Hence, divorce is not uncommon among military personnel.
If you or your spouse is in the military service, and want to file for a divorce for any reason, you need to understand that the legal process can be complicated. That is why it is imperative to be informed about the possible outcomes of a military divorce. 
Our Orland Park divorce attorneys are here to assist you. We have covered everything that might come your way during the legal procedure to prevent surprises.
Why is a Military Divorce Complicated?
When a person is serving in the military, specific laws apply to them and their families. Several protection rights have been issued for the procedures, which you need to discuss with an experienced attorney beforehand to be clear about your position. Additionally, the process can be difficult for both the service member and their spouse. Even if you are not serving, being a military spouse who wants to file for divorce is not easy.
Getting a divorce is an already complicated process because of the various complications concerning child support, alimony, and property division. However, with one or both the parties being military members, several other regulations are applied, which can be challenging to understand without a lawyer's help.
Related: Orland Park Uncontested Divorce Lawyer
Where to File a Divorce?
The state you choose to file a divorce is essential. You may not think of this as a huge deal and file it where you are currently stationed, but it can aggravate your problems. For starters, the state you are temporarily residing in may not have powers to decide the military pension division.
According to the federal law, which is responsible for governing such cases, the state of legal residence of the service person is responsible for any decision taken for the division of military pension. The law is called Uniformed Services Former Spouses' Protection Act (USFSPA).
Hence, before filing for divorce, do ensure that you are applying for it from the right state and the one which will not further complicate your case. The court's rules can also differ slightly, which is something you should keep in mind.
Can a Military Person Delay the Divorce Process?
To give you a short answer, yes! If you are a military member's spouse and want to file for divorce, you should know that they have the legal right to delay the process. However, it is only applicable if the spouse is on active duty. Under such circumstances, the proceedings will be paused if they request it. However, this does not mean that your divorce will be stopped altogether.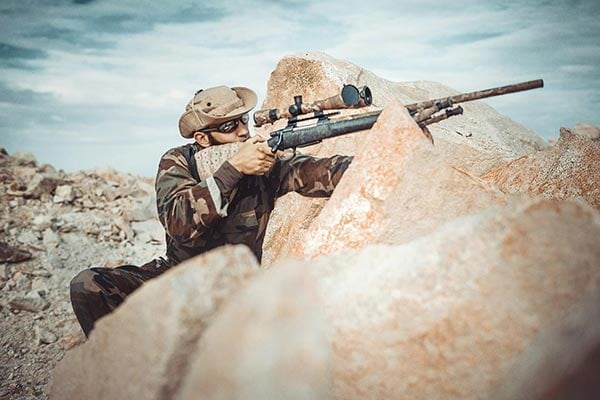 The process can only be delayed until they are on active duty or in combat. Even under such conditions, if a child is involved, the court will develop a temporary plan to support the child. The Illinois court understands that military support child custody cases can get complicated. Nevertheless, under no circumstances will the court pass a decision or pause it for that matter if the child's well-being is at stake.
Military Pension Division Orders
While the pension of a military member is counted as marital property, there are several rules pertaining to the divide. A primary rule is that direct payments will only be made by the department itself if the former spouse was married to the service member for at least ten years of active duty.
This means that you have to be married for ten years, and the person should have been on active duty for at least ten years for you to qualify for a direct payment. Even then, it is not necessary that you get a 50% share. It will depend on several other subjective factors that only your lawyer can explain to you better.
However, there are other methods to get your share if you do not qualify for direct payments. Furthermore, the amount can be divided even further if the military member has been married before. All these factors contribute towards the divide, and so, to become a former spouse of the service person, you need to understand your situation better.
What About Child Support?
Child support is another serious matter that can get complicated when it is a military divorce. With the relocation of your spouse to a different state continuously, there are certain factors that you will need to keep in mind and discuss with your spouse and the attorney to avoid complications in the court.
Why Hire an Attorney?
After going through the basics of how a divorce can become more complicated if it involves a person from the military, we are sure you have now understood handling it on your own can be daunting.
While we are confident that you can make it through this challenging time, all we want is to support you with the legal matters to ensure you get what you deserve. If you are in such a situation, wait no more and contact Tommalieh Law today to discuss your options with a family law attorney.