If you are facing legal issues pertaining to divorce you can trust an Aurora divorce lawyer from Tommalieh Law to help you out. As a firm, we have helped couples to resolve various family issues pertaining to their divorce. We provide solutions for our client's issues by giving them advice and offering legal representation. We act on our client's behalf and our actions speak louder than words.
At Tommalieh Law we work as a team for the sake of our clients. Each and every team member uses their abilities and their strengths to help our clients. As a client, you are important to us and we put you first. Our legal team uses their knowledge, expertise, and skills to find a solution to your case. We have a team of lawyers and legal assistants to go over your case and help you in every way necessary so they can find working solutions for your divorce case. Our family law attorneys focus on the clients' needs and goals so they can be able to provide top-notch services to clients.
At Tommalieh Law we offer our clients a variety of services for divorce. If you need help filing for your divorce, protecting your parental rights, division of marital properties, or other issues pertaining to a simple or complex divorce we are here to help you out.
Why You Need a Divorce Lawyer in Aurora, IL
In the case where you have decided to go through a divorce, you should consider it an important step to consult a skilled and experienced attorney to handle your case so they can help you to make the right decision. When you face the myriad of complicated issues that usually comes up during a divorce you want to make sure that you make the right decision. To ensure that you are on the right track in ensuring a smooth transition during and after divorce you should start by hiring a divorce attorney that has the necessary legal experience to handle your case.
No matter the family law matters you are going through with your divorce whether it is an uncontested divorce, disputes involving child support and child custody, or other complex issues such as assets or property division it is best to hire an experienced divorce attorney to review your case in Aurora, Illinois. You need legal counsel who can help you to see issues that you could have overlooked or problems that you could have failed to fully consider so that they do not turn out to be problematic for you in the future. 
Learn More: Questions to Ask a Divorce Lawyer
The divorce process can be traumatic, stressful, and even emotional for most. However, at Tommalieh Law our goal is to offer compassionate and caring legal services to our clients. Our skilled advocate wants to make sure that every client that comes our way is satisfied with our services as they go through a divorce.
Our divorce law firm handles every case differently. We know that every case that we are working on is different and we use a different approach to handle every one of our client's legal challenges. As a legal service, we offer our clients support, comfort, and honest advice to help get them through this difficult situation in their lives. Also, we encourage client participation. By doing this we have found it easier to serve our clients in divorce proceedings.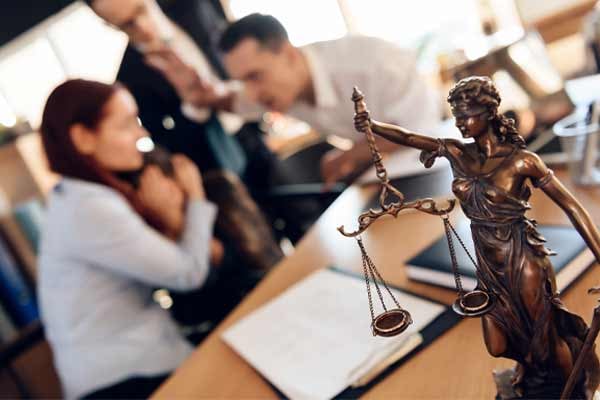 Hire an Aurora Divorce Lawyer From Tommalieh Law
The divorce process is overwhelming and complicated.  Most couples never think that they will go through the process of divorce once they get married. However, due to a variety of personal issues, there are couples that eventually part ways. When you are going through the process of divorce it is your right to have access to a divorce attorney that will offer you full personalized legal guidance. We have catered to clients in Aurora Illinois and helped with a wide range of family law issues.  Here are some of the services that an Aurora family lawyer                              from Tommalieh Law can offer you:
We take the time to listen to your case and understand what you are going through.
We help you file for the divorce papers needed while filing for divorce.
Carrying out free case evaluation and review of your case.
We will answer you're the questions that you have during your free initial consultation and as well explain your legal rights to you.
Taking action to help you achieve the best possible outcome.
We can help you to find a low-conflict solution in your family law case. If you have questions pertaining to your divorce case you can get in touch with our legal advocate for assistance.
Let Us Aggressively Fight for You
When our clients come to our law office we have a sit down with them and we help them to have a comprehensive understanding of the laws that are applicable to their legal process. We give them examples of cases that we have previously handled so they can have a better understanding of the divorce process.
When you come to us we make a legal obligation to you personally. We will not pass on our responsibilities to a secretary or paralegal we choose to handle our cases by ourselves. It is important to us that you trust us throughout the time that we will be working together and we intend to earn that trust. We openly communicate with you and make sure to update you in case there are any updates concerning your case. You should know that you are in great hands when you have a Tommalieh Law divorce lawyer representing your matters of family law.
Related Content: What to do Before Filing for Divorce
Get In Touch With a Skilled Divorce Attorney
At Tommalieh Law we know that the outcome of your divorce will affect your family for many years to come. Our lawyers are skilled negotiators and aggressive litigators. We do our best to make sure that your divorce case is resolved in a swift and non-expensive manner by going through alternative dispute resolution methods. However, if this is not possible for us to get an agreeable resolution we are willing to go to trial. You will need an attorney with experience in the courtroom to offer you litigation services. 
For your case to be successful we believe that you need adequate preparation. We work hark hard to make sure that we understand your goals and do our best to meet them. We want to offer you legal assistance with your legal matters. Get in touch with us to book your free initial consultation.