As hard as a divorce can be, it is even much more challenging when you do not have the right Cook County LGBT divorce lawyer by your side. Over the years, laws concerning the LGBTQ community and same-sex marriage have evolved. Same-sex couples have similar freedoms with heterosexual couples regarding marriage, being parents, and other family issues.
As a same-sex couple's going through a divorce, you need a family divorce lawyer who understands you and can help you get the best possible outcome. You need a Cook County LGBT divorce lawyer from Tommalieh law to take on your case. It is a stressful time for you, and we can help you transition and help you deal with issues that may arise during your litigation process.
We love what we do, and we would love to be that hand you can hold onto to help you protect your interests and help you transition to your new norm. We have helped other couples who faced similar challenges to yours and needed our help. Let us help you. Call our law firm and get connected to a family law lawyer in Orland Park that can really help!
Issues That Can Arise During a Same-Sex Divorce Proceeding
Married couples deal with the same issues when they are married, and these factors can lead them to eventually end the relationship. They could be dealing with issues about their finances, domestic altercations, the trust could be broken, drug or alcohol addiction, and at times they just grow apart.
When you are going through a divorce, you need compassionate individuals around you who won't judge you. We value our clients, the attorney-client relationship we have with them, and we respect their privacy. Over the years, we have seen many couples divorce over a variety of issues. Although painful, we understand that divorce is a part of life. Ours is to help you transition smoothly by helping you take care of issues that may arise during your divorce. You need a same-sex divorce lawyer that not only empathizes with you but one who knows what they are doing.
We know the legal process, we have taken the journey before, and we can take it with you once more.
Here are some of the issues arising during a legal representation that we can help you get the best outcome.
Property division is sensitive during a divorce case. You need to ensure that your rights are well protected during the division of property. You want to get your fair share when it comes to marital property.
Child custody and visitation rights or parenting time legal issues will pop up during divorce proceedings. We want to ensure you get what is best for your kids despite it being a complex child custody case.
Protection from a partner if they are violent. You can get a restraining order.
Alimony or spousal support depending on your income.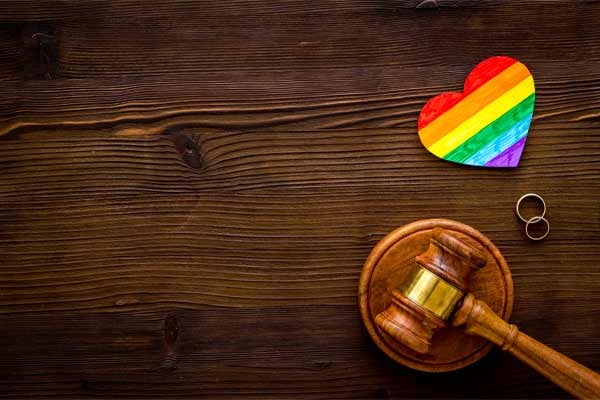 We treat every couple that comes to us differently in that we know every case is not the same. When you come to Tommalieh Law, you become part of the team, and we work together with you to ensure that you get the best possible outcome. We take care of our clients, and we want to take care of you. Fill our online form or give us a call to book your initial consultation. We want to know your story and how we can help you during the divorce process.
Are There Issues Associated With Children in a Same-Sex Relationship?
Laws on child custody for Same-Sex parents are different depending on a few factors. Do they live in a state where there is no relationship recognition and are both parents' legal parents, or does one of them play a second-parent adoption role? What steps were taken during the adoption process? Depending on where they live and the laws concerning child custody, it will determine a child custody battle outcome.
It would be best for couples to seek meditation to not have to go to battle regarding child custody. However, it is not always possible for them to agree and come to terms with one another. When divorce mediation fails, seek the help of a divorce attorney to help with your legal matters.
It is essential to take care of family law matters concerning parental responsibilities and support during divorce litigation. We offer confidential case evaluation during the initial consultation so you don't have to worry about any confidential or time-sensitive information you give us. We will only use the information you give us to build on your case.
Get Your Interests Represented In Cook County, Illinois
At Tommalieh law, we are family lawyers who deal with complex divorce cases, child custody, debt liability, asset, and property division, among other divorce issues. We listen to you, and we come up with strategies that work towards getting you the best possible outcome. Illinois is an equitable divorce state that does help in ensuring that property division is fair.
We know the laws, and we can explain the options, plans, and strategies we can explore in your case.
Hire a Cook County LGBT Divorce Lawyer to Represent You
We are dedicated to helping couples part ways amicably. You can find the best Cook County LGBT divorce lawyers to represent you, guide you, counsel you, and walk with you until your divorce is finalized. We have vast experience, knowledge, and passion, and we are dedicated to helping you. You can't go wrong with us.
Hire an expert to work on your case and help defend your legal rights. Hire us!