A Chicago order modification attorney can help make changes to child support, custody, and alimony obligations more simple. They understand family law complexities and can guide you through the divorce decree modification process.
A lawyer can represent you in court and help present evidence to support your case. Negotiating an outside-of-court settlement is preferable and less costly, and a lawyer can help with this.
Working with a Chicago family lawyer can provide peace of mind and the best chance of a favorable outcome. Call our firm at (708) 232-0017 to schedule a free consultation with an attorney and learn how we can help you with your order modification case.
Types of Cases Handled by a Chicago Order Modification Lawyer
When it comes to family law cases, a Chicago Order Modification Lawyer provides representation to clients seeking to modify an existing court order. Whether it is a modification of child custody issues, financial obligations, visitation, or an increase in child support orders, the lawyer can help ensure that the client's rights are respected and the appropriate changes are made.
The following is a brief description of some of the cases commonly handled by a Chicago Order Modification Lawyer:
Custody Modifications: When a child's needs or the circumstances of the custodial parent change, a custody order may need to be modified. A Chicago Order Modification Lawyer can help clients develop a plan that is in the best interest of the child.
Visitation Modifications: Visitation arrangements are often written into divorce agreement court orders and may need to be modified if the circumstances of one or both parties change. A knowledgeable attorney can help negotiate a new agreement that works for everyone.
Child and Spousal Support Modifications: When it comes to divorce settlement support orders, a knowledgeable lawyer can help ensure that payments are fair and in line with current laws and regulations.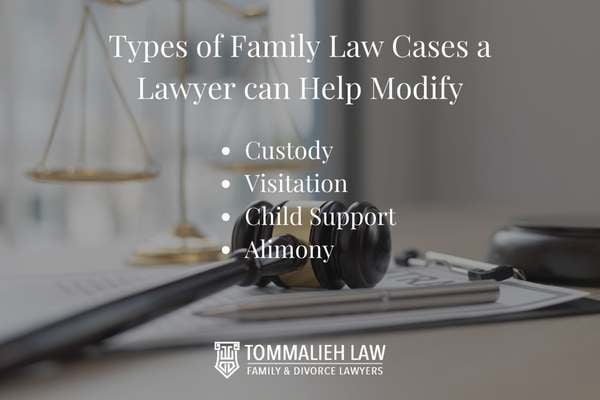 No matter what type of family law legal issue you are facing, a Chicago order modification lawyer can help. Contact a qualified attorney today to discuss your case and find out how they can help you get the outcome you deserve.
Modifying Child Support Payments
To modify an existing child support order in Chicago, consult with a family law attorney. This is especially important if you're facing difficult life events such as financial hardship due to the loss of work or due to illness. A qualified lawyer will guide you through the family law services process, which begins with filing a petition in a family court.
The petition must include specific information, such as the current alimony obligations of child support from the original judgment and the reason for the modification. You will need to appear in court for a hearing and present your case. An experienced lawyer can represent you and present your case in the best possible light, increasing your chances of success.
Modifying Custody Agreements
Parents may want to modify custody agreements for a certain period for various reasons. Seeking advice from an experienced Chicago order modification lawyer is important in this area.
A lawyer can provide legal services to help parents understand the possible modifications of a complicated situation and ensure the changes adhere to the law. They can guide parents on how to request a modification and provide legal advice on presenting their case in court to protect their interests.
Other Commonly Modified Court Orders
A lawyer in Chicago who specializes in court order modification can help modify a wide range of orders. These may include orders related to child support, spousal support, parenting plans, financial matters, child allocation plans, custody arrangements, asset distribution, and more.
In addition to typical divorce-related orders, these lawyers can also help modify other commonly modified court orders. One type of order that is frequently modified is alimony, which may need to be adjusted if one spouse's financial situation changes significantly. Another order that may need modification is property distribution.
A lawyer can modify restraining or protective orders in cases where circumstances, such as domestic violence or criminal charges, have changed since the initial order was issued.
Qualifications of an Order Modification Lawyer
When modifying an order in Chicago, it's important to consider the qualifications of the lawyer. They should have experience in family law and Illinois laws related to modifications. They should be able to handle negotiations and provide personalized advice.
Additionally, they should keep your best interests in mind and help with any issues. A qualified and experienced lawyer can help navigate the complexities of family law and protect your rights. Contacting an experienced Chicago order modification lawyer is the best way to ensure a favorable outcome.
Education and Experience Requirements
Education and experience requirements to become a Chicago order modification lawyer vary depending on the type of practice you plan to pursue. Generally speaking, lawyers must possess a Juris Doctor (J.D.) degree from an accredited law school to practice law in Chicago. In addition, the state bar association requires successful completion of an attorney licensing exam and a professional responsibility examination before admission to the Bar.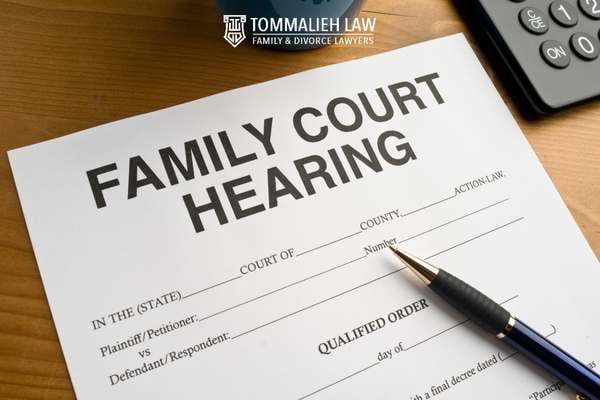 Furthermore, many Chicago order modification law office lawyers have experience in family law and may even specialize in the area. This type of skilled attorney should be familiar with all the relevant laws and regulations that pertain to modifications of parenting time, visitation rights, parenting time schedules, alimony agreements, and spousal maintenance court orders.
An experienced attorney can provide valuable advice based on their understanding of the law. When researching potential attorneys, be sure to inquire about their legal education, experience, and any specializations they may have.
Licensure Requirements in the State of Illinois
To become a lawyer in the state of Illinois, certain licensure requirements must be met. To practice law in Illinois, candidates must:
Have a Juris Doctor (JD) degree from an accredited law school or have passed the bar exam of another U.S. state or territory;
Be at least 21 years old; -Have a character and fitness review by the Illinois Attorney Registration & Disciplinary Commission;
Pass the Illinois Bar Examination; and
Be sworn in by the Supreme Court of Illinois.
In addition to meeting these requirements, lawyers must also fulfill certain continuing education requirements to maintain their licenses.
Call Our Experienced Chicago Order Modifications Lawyer Today!
Are you dealing with a family law issue that requires an order modification and you're not sure how to navigate the legal process? If so, contact Tommalieh Law today to speak with our experienced Chicago Order Modification lawyer. We understand the challenges that come with making changes to an existing court order and can work diligently to help you achieve the desired outcome.
Our knowledgeable Chicago Order Modification lawyer is prepared to help you navigate through the entire process, fight for your rights, and protect your interests.
Give us a call today at (708) 232-0017 to learn more about how we can help you!