You may know you want to get a divorce, but not know where to start. Even thinking about the legal documentation, property division, spousal maintenance, and child custody can be overwhelming. Luckily, our skilled Chicago divorce lawyers can help you throughout the process.
If you are ready to file divorce paperwork or need to respond to your spouse's divorce notice, Tommalieh Law can help. Our experienced divorce lawyers can work with you to solve the complicated family law matters of child custody, child support, division of marital property, and spousal support. Contact our Cook County family law firm today at (708) 232-0017 to schedule your no-cost initial consultation.
How Do I Find the Right Divorce Lawyer?
Having the right family attorney on your side can make all the difference in your case. Here are some tips to help you find the best divorce attorney for your case.
If you know anyone who has gone through a divorce ask for their input. Your friends, family, and colleagues perhaps know a good divorce lawyer in Cook County or any of the surrounding areas.
Look at reputable sources. Don't just stop at the recommendations. Check the Illinois State Bar Association's site, too to see if a divorce lawyer has any formal disciplinary action on their record. Additionally, look for attorneys on Google and social media. Looking through reviews on these platforms can help you make a more informed decision when you choose to hire an attorney.
Meet with attorneys to discuss your case. A good attorney should make it easy for you to know what they will do to help through your divorce case. They should offer you clear information concerning their fees, legal approach, values, defense strategies, and more. They should be as direct and concise as possible while remaining sensitive to your circumstances.
What do you want from your case? Are you looking for a collaborative approach to solving your family dispute, or do you expect a contested divorce? If you understand what you're looking for from the start, you'll find it easier to find a divorce attorney who best fits your needs.
Just in case, find a lawyer with courtroom experience. Heading to court can be costly and stressful, but sometimes it is necessary. You need a divorce lawyer who isn't afraid to go to court and represent you if needed.
Related Content: Questions to Ask a Divorce Lawyer
What Are the Grounds for Divorce in Illinois?
Illinois recognizes two types of divorce. Divorce where there are specific reasons given, and divorce where no specific reason is given. You may seek a divorce based on irreconcilable differences, which is known as a no-fault divorce if no reasons are given. In Illinois, a no-fault divorce requires a mandatory separation period of six months.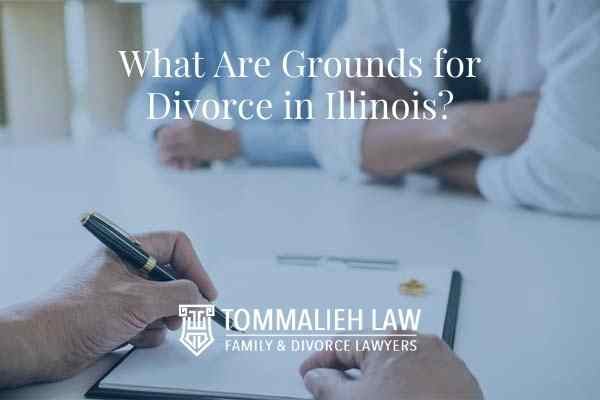 There are 11 primary grounds for divorce in Illinois, including:
Impotence
Adultery
Bigamy
Drug addiction
Separation for two years or more
Mental cruelty
Habitual drunkenness
Physical cruelty
Infection with an STI
Drug addiction or alcoholism
Conviction of a felony
In order to get a divorce based on irreconcilable differences, you and your spouse must be separated for a specific period of time before the divorce your divorce can be finalized. If both parties agree to the divorce, the waiting period is typically six months. However, for a contested divorce, the waiting period is two years. There's no waiting period if there are grounds for the divorce.
Do I Need a Lawyer for a Divorce in Chicago?
While it's possible to represent yourself in a divorce, the legal process is not simple. Having help from an experienced divorce lawyer can make a substantial difference in how your case will be resolved. Due to the complicated nature of divorces, it's in your best interests to hire a skilled divorce attorney in Chicago.
If your spouse hires a divorce attorney you will almost assuredly need representation because the success rate of individuals representing themselves against a lawyer is very low. Most divorces require many legal documents to be drafted which, if not completed correctly, can be stressful and devastating to the litigant.
Once you find a family law attorney you're comfortable with, you may feel like a weight has been lifted from their shoulders since you have an experienced professional to advocate on their behalf.
How Do You File for Divorce in Illinois?
There are four main steps you must follow in order to start the divorce proceedings in Illinois:
Make sure the residential requirements and waiting period are met – In order to get a divorce in Illinois citing "irreconcilable differences," both parties must be separated for two years. However, if both spouses agree to get an uncontested divorce, then they can both sign a waiver to proceed after being separated for only six months.
File a "Petition for Dissolution of Marriage" – This is the initial legal document that you file to notify the court that you are ending your marriage. This and the other documents related to it are typically referred to as divorce papers. You must state the grounds for divorce in the petition. Illinois includes at-fault and no-fault grounds for divorce, which are commonly known as irreconcilable differences.
Serve the Divorce Documents to the Other Party – The non-filing party, or respondent, must be served with the Petition for Dissolution and other corresponding documents.
Get a Response – The non-filing party must file a response after being served divorce papers.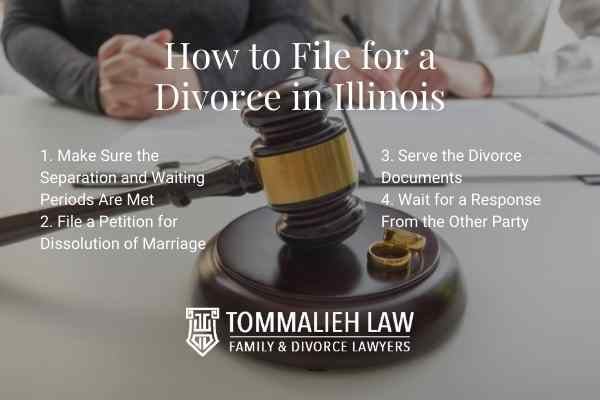 Related Content: What to do Before Filing for Divorce
Schedule an Initial Consultation with Our Experienced Family Lawyers
Ready to speak to a skilled divorce lawyer near you? No matter what your divorce case entails, you can rest assured that a skilled Chicago family lawyer has the experience and skills needed to represent you. We focus entirely on divorce and family law issues and are prepared to provide the personalized legal representation and counsel that you need to get a favorable outcome.
Our legal team has helped thousands of couples seeking a divorce in DuPage County, Cook County, Kane County, Kendall County, Lake County, and throughout Illinois get the best possible results and we can help you too.  To schedule a no-cost initial consultation, call our family law firm today at (708) 232-0017.