Updated on
April 13, 2021
Updated: October 15, 2022
If you're planning to file for divorce in Illinois, you must follow certain procedures to start your case. You can file for divorce with the help of an experienced divorce attorney or you can opt not to hire an attorney and represent yourself during the trial. In Illinois, divorce is referred to as "dissolution of marriage." There are two types of divorce in Illinois: fault-based and no-fault divorces. These two types come with their own unique Cook County divorce forms. In a fault divorce, one party must prove that the other party engaged in marital misconduct that led to the breakdown of the marriage.
In a no-fault divorce, you don't have to prove that your partner caused the breakdown of your marriage. When you file for a no-fault divorce, you just need to state that the marriage is "irretrievably broken."
To file for a no-fault divorce, you or your spouse must have lived in Illinois for at least 90 days. Also, the two of you must have lived separately from each other for at least two years. It's essential to note that Illinois law doesn't require separated spouses to live in different households. Thus, living "separate and apart" simply means that the couple has lived more like roommates rather than spouses.
Alternatively, if you and your spouse stipulate in writing that your marriage is irretrievably broken, you'll only need to be separated for six months before seeking a divorce. The experienced Cook County divorce attorneys at Tommalieh Law have helped thousands of clients get favorable outcomes during family law issues, such as division of divorce, marital property, child custody, child support, and alimony, and we can help you too. Contact our family law firm today at (708) 232-0017 for a free case review.
How Do I File for Divorce in Cook County?
Once you have decided which type of divorce you want to file, you must gather and complete the right forms. You can find standard divorce forms at the Illinois Supreme Court's website. 
Don't forget that the county where you live may need additional or different forms. For instance, the Cook County Circuit Court publishes standard links to Cook County divorce forms on its website. Consult with your local court clerk if you have questions about the forms you need to file in your county.
Also, you may need to file a Petition for Dissolution of Marriage, which is a written request for a divorce. Further, if you live in the greater Chicago area and want to file for divorce in Cook County, you must file the following forms:
Domestic Relations Cover Sheet
Summons (4 copies
Petition for Dissolution of Marriage (4 copies)
Certificate of Dissolution, and 
Affidavit of Service (unless the respondent waives the notice requirement).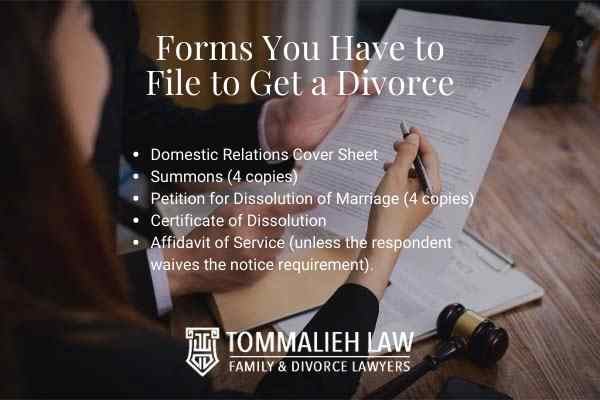 If you have younger children, you must also file the following forms:
Joint Parenting Agreement
Uniform Order of Support (in child support cases), and
Visitation Form.
Illinois couples without minor children and minimal assets can file for a "Joint Simplified Divorce." To qualify for this type of divorce, you and your spouse must meet Illinois residency requirements, and the following criteria:
You and your spouse must have been married for less than 8 years
You and your spouse should have no minor children (biological or adopted) 
You and your spouse shouldn't own real estate property
The total value of your marital assets should be less than $50,000
You and your spouse must make less than $30,000 each per year or less than $60,000 combined
Each party should have less than $10,000 in retirement benefits
You and your spouse must have resolved all family law issues in your case, and
Neither party should seek spousal support from the other.
When filing for Joint Simplified Divorces you'll need to file different forms than traditional divorce. You can find Cook County's Joint Simplified Divorce forms at the Illinois Legal Aid website.
Even though you and your spouse don't qualify for a joint simplified divorce, you can still resolve your divorce case without going to court. To resolve your divorce case, you and your spouse must sign a divorce settlement agreement and present the agreement and all related paperwork at a "prove up" hearing before a family court judge. During the divorce hearing, you must be ready to answer the judge's questions about how your agreement divides the marital property and supply any requested paperwork to support your answers.
How Much Does it Cost to File for Divorce in Cook County?
In order to file for divorce in Cook County, you'll need to pay divorce filing fees of $388. The party who initially files for divorce, the plaintiff, pays that fee. If you're filing for an uncontested divorce in Orland Park, and you and your spouse agree on all divorce terms, you can file a Marital Settlement Agreement. To file this agreement, the defendant needs to file a form called an Appearance and pay the filing fee of $251.
The two fees can be viewed as a single fee of $639 paid at the time of e-filing. That's because once you file the Marital Settlement Agreement with the Respondent's Appearance alongside the Petition for Dissolution of Marriage, the appearance fee will be added to the filing fee, requiring you (plaintiff) to pay both fees when the divorce case is first e-filed. The petitioner will then seek reimbursement of the appearance fee since the defendant should pay it.
What is the Cheapest Way of Getting a Divorce?
If you and your spouse agree on all family law matters in your divorce case and the two of you do not need a written Marital Settlement Agreement, the defendant does not need to file an Appearance, and they are not required to pay the  $237.00 fee. However, since the defendant won't be filing an Appearance, the plaintiff must have the Petition for Dissolution formally served on the defendant by either the Sheriff's office in the county where the defendant lives or by a private commercial process server.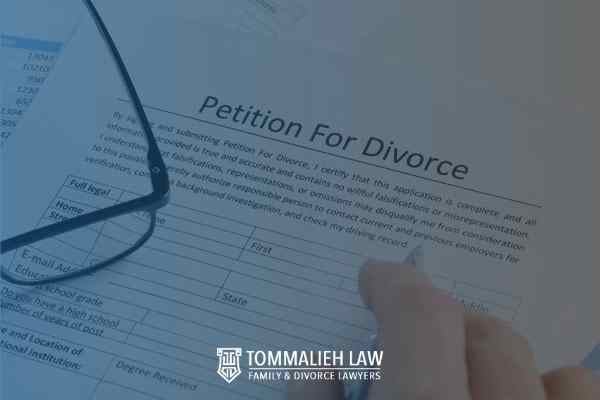 If the defendant lives in Cook County, the Sheriff's office will charge $60.00 for the service fee. With a private process server or in other counties in Illinois, fees will vary. The petitioner pays the service fee. Once service is complete, the server files an Affidavit of Service to prove to the Court that the defendant was served properly. If the defendant doesn't file any documents with the court, after 30 days, he or she is in default. However, it's essential to note that in Illinois, divorce by default isn't allowed when the defendant is on active duty, such as in the military because of the protection awarded to service members by the Servicemembers Civil Relief Act.
Contact our Experienced Cook County Divorce Lawyers for Legal Advice!
A divorce can plunge your life into uncertainties, and if you have minor children, you're not only worried about your own future but theirs too. Divorces and a child custody case can get messy fast, and yet so many law firms don't prioritize these cases. Thus, it's essential to work with divorce lawyers who will take your future seriously. 
At Tommalieh Law, our team of dedicated family law attorneys understands that divorce is a devastating experience in anyone's life. We take the time to listen to the concerns of each client, understand their legal problems, and understand the goals they wish to achieve. No matter how contentious your case is, our Illinois family lawyers are ready to offer you the quality service we offer to all our clients.
If you're searching for divorce lawyers in Cook County or dealing with family law issues, don't face it alone. To schedule a free initial consultation, call our family law firm today at (708) 232-0017, or chat with us online to learn how we can help.