Updated on
January 22, 2021
Updated: January 17, 2023

It's devastating, especially if you have to end your marriage because of your spouse's infidelity. Marital infidelity causes sadness, anger, hurt, despair, and anguish, which can all make the divorce process to be even more painful and contentious than the average divorce.
If you're divorcing your spouse because of infidelity, you may wonder if your spouse's adultery could give you a leg up in your divorce and if you should contact a family lawyer. While the answer is "no," there are certain aspects and areas of your divorce that your spouse's adultery could influence.
What Is Considered Adultery?
According to Illinois law, adultery refers to a voluntary sexual affair between a married person and a person who isn't their spouse, if:
The person is married and is aware that the other person involved in the affair isn't their spouse; or
The person isn't married and is aware that the other person involved in the affair is married.
Based on divorce laws, if two people engage in such action, and their actions are "notorious and open," they're committing a misdemeanor which could be punishable by up to one year in prison. However, even though this law exists, it rarely results in criminal prosecution, thus a person isn't likely to get jail time because of their extramarital activities.
Illinois Divorce Laws
Illinois divorce laws state a person must have been a state resident for at least three months before filing for a divorce. The plaintiff can file for a divorce at the circuit court in the county where either spouse lives.
Under Illinois divorce laws, marital assets, such as brokerage accounts together with other investments and physical entities, such as a house all fall under the scope of the property. However, before the family law court moves forward with dividing up marital property, it must determine what category the property falls under.
The marital property belongs to both parties, while separate property belongs to one party. However, separate property can turn into marital property if, for example, one party deposits inheritance money into a joint bank account under the name of both parties, that money becomes marital property.
Based on Illinois divorce laws, family law courts split marital assets and physical property based on equitable distribution. This means a judge will divide property fairly, however, this doesn't mean a 50/50 division based on the property and assets value. Instead, the court considers certain factors, including:
Each spouse contributions to the increase or decrease in value of the marital assets.
The duration of the marriage.
Each spouse's financial resources.
In Illinois, marital misconduct doesn't influence property division. Thus, if one party committed adultery, that doesn't give the plaintiff a bigger share in the marital property.
Under Illinois law, a child is anyone under the age of 18 or anyone under the age of 19 who is still attending high school. The Illinois divorce laws state that a custodial parent may receive child support from the other parent.
Illinois follows a Flat Percentage of Income Model when deciding child support payment amounts. The formula disregards the custodial parent's income. Instead, it calculates child support payments using the other parent's net income minus certain deductions, including:
FICA payments, such as Social Security
Federal and Illinois income taxes
Health and hospitalization premiums for dependents and self
Mandatory retirement contributions
Illinois divorce laws allow either spouse to receive alimony payments. The judge determines the amount of spousal support as well as the duration based on several factors, including the financial needs of both parties and the earning ability of either spouse.
According to Illinois divorce laws, in estate planning, the surviving party loses all rights to assets designated in the will of their deceased spouse. But this statute only applies after the divorce is completed. Thus, if a spouse dies while divorce proceedings are underway, the surviving spouse could still lay claim to assets designated in the will of the deceased. Therefore,  it's crucial to update your will and estate planning strategy during divorce proceedings.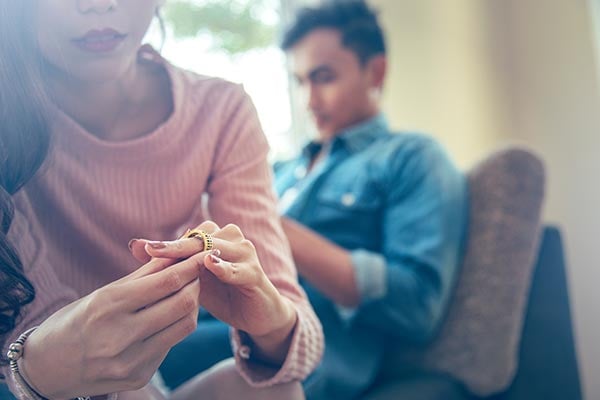 How Does Adultery Affect Alimony Awards in Illinois?
Although adultery is a ground for divorce, Illinois judges can't consider adultery at all in spousal support. The relevant alimony statute states that alimony awards have to be determined "without regarding marital misconduct." This means alimony decisions have to be "just," so they have to be fair.
For alimony decisions to be rational, Dupage County judges consider a list of objective factors, which include:
Each spouse's income and property, including marital property apportioned and non-marital assets assigned to the spouse seeking alimony in the final divorce order.
Each spouse's needs.
Each spouse's present and future earning ability.
Any impairment of the present and future earning ability of the party seeking spousal maintenance because of that party devoting time to domestic duties or having foregone or delayed education, training, career opportunities, or employment for the sake of the marriage.
The time needed to enable the spouse seeking alimony to acquire adequate training, education, and employment, and if that party can be self-supporting via appropriate employment or must instead act as the custodial parent for a child to an extent that employment isn't an option.
The standard of living established in marriage.
The duration of the marriage.
Either spouse's age and their emotional and physical health.
The tax ramifications of the property division in the final divorce order and how those ramifications will affect both parties economically.
Any valid agreement between both parties, such as a prenuptial agreement.
What Role Does Adultery Play in A Naperville Divorce?
Illinois doesn't accept adultery as a reason to file for divorce. Illinois is a "no-fault" divorce state, which means neither spouse is considered to be at fault for the dissolution of the marriage. Currently, the only recognized ground for divorce in Illinois is "irreconcilable differences," meaning that the marriage has broken down and is beyond repair.
Typically, there's no need to prove that irreconcilable differences exist, and divorce is awarded if both parties agree to end the marriage. But if one party objects to the divorce, adultery could be shown to be the reason for irreconcilable differences, and if the petitioner proves that the marriage is irreparable because of these differences, then a divorce will be granted. If a couple has been separated for at least six months, they met the requirement for irreconcilable differences. 
Contact A Chicago Divorce Attorney Today!
If you're contemplating filing for a divorce because of infidelity, you know how distressing marital infidelity can be. For sound legal counsel from experienced Cook County divorce attorneys, contact Tommalieh Law. Our highly experienced divorce lawyers have the knowledge and expertise necessary to handle even the most complex family law issues successfully.
We will fiercely advocate on your behalf to make sure you receive your fair share of the marital assets and property. To schedule a free initial consultation, call us today at (708) 232-0017, or chat with us online. Don't wait! Call us today!